Designed towards expanding the refrigeration and cold chain industry, with an objective to bringing forward the best technological solutions and increasing the overall growth of the sector, REFCOLD India made a triumphant return from 12th-14th October at the Chennai Trade Centre, Chennai, India. As South Asia's premier refrigeration and cold-chain exhibition, this year's event welcomed 200+ exhibitors and 15,000 visitors under the theme of 'Preserve Through Innovation For a Better Future.' 
The event is the initiative of The Indian Society of Heating, Refrigerating and Air Conditioning Engineers (ISHRAE) & Informa Markets India, and covers all fields of the refrigeration and cold chain industries. Bringing together industry professionals, manufacturers, suppliers, and policymakers under one roof, the event provided a platform for the global community to connect with stakeholders in the refrigeration and cold chain sectors in India.
Consultant to Eurovent Certita Certification (ECC), Rajagopal Sivakumar, was involved in the conference presentations, leading a session on "Certification of Refrigeration equipment for Cold chain Industry." The REFCOLD Conference sessions offered a captivating platform for experts and enthusiasts in the refrigeration and cold chain domain to converge. Delving into cutting-edge research and innovations, attendees explored a variety of topics on sustainability, natural refrigerants, innovative design and technology, case studies and more. Through interactive workshops and demonstrations, participants gained practical insights into optimising cold chain processes. The three-day conference featured presentations by local and International speakers, focussing in on the key topics of sustainable cold chain with C02 refrigerant, energy efficiency and heat pumps.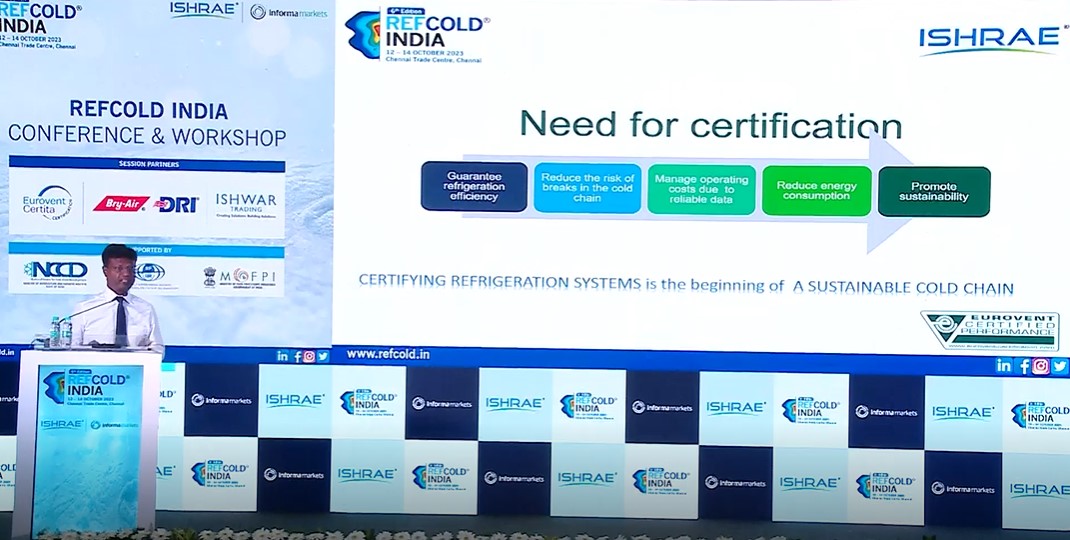 On day-two, participants of the morning conference sessions enjoyed an enlightening presentation from Rajagopal Sivakumar, managing director of Agrivaluechain Services Pvt. Ltd. As a consultant with over twenty-seven years of industry experience in designing, analysing and implementing agricultural and horticulture value chain projects, he was ideally placed to discuss the need for certification in terms of food safety, reliability and energy efficiency.
His presentation, "Certification of Refrigeration equipment's for Cold chain Industry," was designed to introduce to the audience the need for certification to improve competitiveness and meet global cold chain standards. Highlighting the help certification brings to the refrigeration industry and food safety as a whole, in terms of product performance, reliability, energy efficiency, operating costs and sustainability. His presentation them moved onto the process of Eurovent certification and the various products certified for use in food processing, storage, logistics, distribution and supermarkets.
Finishing the presentation by covering a case study on certified vs non-certified evaporators, Rajagopal Sivakumar directly compared and evaluated the performance of an Indian certified evaporator with a European non-certified product. The findings not only showcased the importance of certified data and performance, but also that certification doesn't have to come with an expensive price tag, with the certified evaporator offering a more cost effective solution.
Moving onto the awards evening, Rajagopal Sivakumar was back on the stage to win the coveted Innovative Cold Chain Projects award at the prestigious REFCOLD India Copeland Awards 2023. The project on an integrated cold chain & fruit distribution centre, was one of 20 entries submitted from all over the country. A shortlist of three projects made it through to the finals, where they had to present their project before a jury of industry peers. 
Rajagopal Sivakumar's winning project brought a number of elements together in a holistic approach to cut energy waste and make impressive sustainability gains, by using:
Technology interventions. Such as using certified products and data. focussing on thermodynamics, selection of environmentally friendly refrigerants, integrating electronic control management system to improve part load performance. 
Improving the Thermal building performance. Using PIR panels with better thermal insulation characteristics and automatic fast roll up doors to reduce the infiltration load. 
Improving the cold chain process. Included  pre-cooling process with dedicated room to reduce the equipment capacity fitted cold storage rooms.
Environmental sustainability. Integration of a solar PV system for captive power consumption to reduce 1/3 of power consumed during peak demand resulting in C02 emissions. 
Social innovation. The cold chain facility enabled the Farmers group across the country to sell their produce directly to the retail market by avoiding middle man and aggregators thus improving their revenue. 
The judges all agreed the project should take first place, not just because of the design innovation and energy saving features, but also to prove how successful projects can be delivered in an environmentally friendly, and socially impactful way. The whole Eurovent Certita Certification team would like to congratulate Rajagopal Sivakumar on his award and successful presentation at REFCOLD India. 
To find out more, visit the REFCOLD website.