The way we use the web is always changing and so we've been upgrading features and adding new functions to help improve your online experience on www.eurovent-certification.com. Our website improvements started back in 2022 and the good work is continuing through 2023, with a whole host of recently developed features. We walk you through what's new on the Eurovent Certita Certification (ECC) website and give you a sneak peek of what's to come.
Certified product directory
We've been busy making changes to the certified product directory to ensure it is useful and usable for all our visitors. Topping the list of improvements is a new data export facility and a number of visual and functional upgrades:
Full data export
We've added a full data export facility, for registered users. With just one click, you can receive a download of all product performance data, for a brand, in a single CSV file, via email. But don't fret, if you are an unregistered user you can still download individual product performance reports direct from the directory.
Change your view
To improve product visibility, we've added the ability to change the number of lines displayed by 50, 100, 500 or 1000 lines per page.
Improved advanced search function
And we have enhanced our advanced search feature, with better visual indicators for upper and lower value limits. The box now turns red and the Apply button is disabled if inputting values outside of the limits.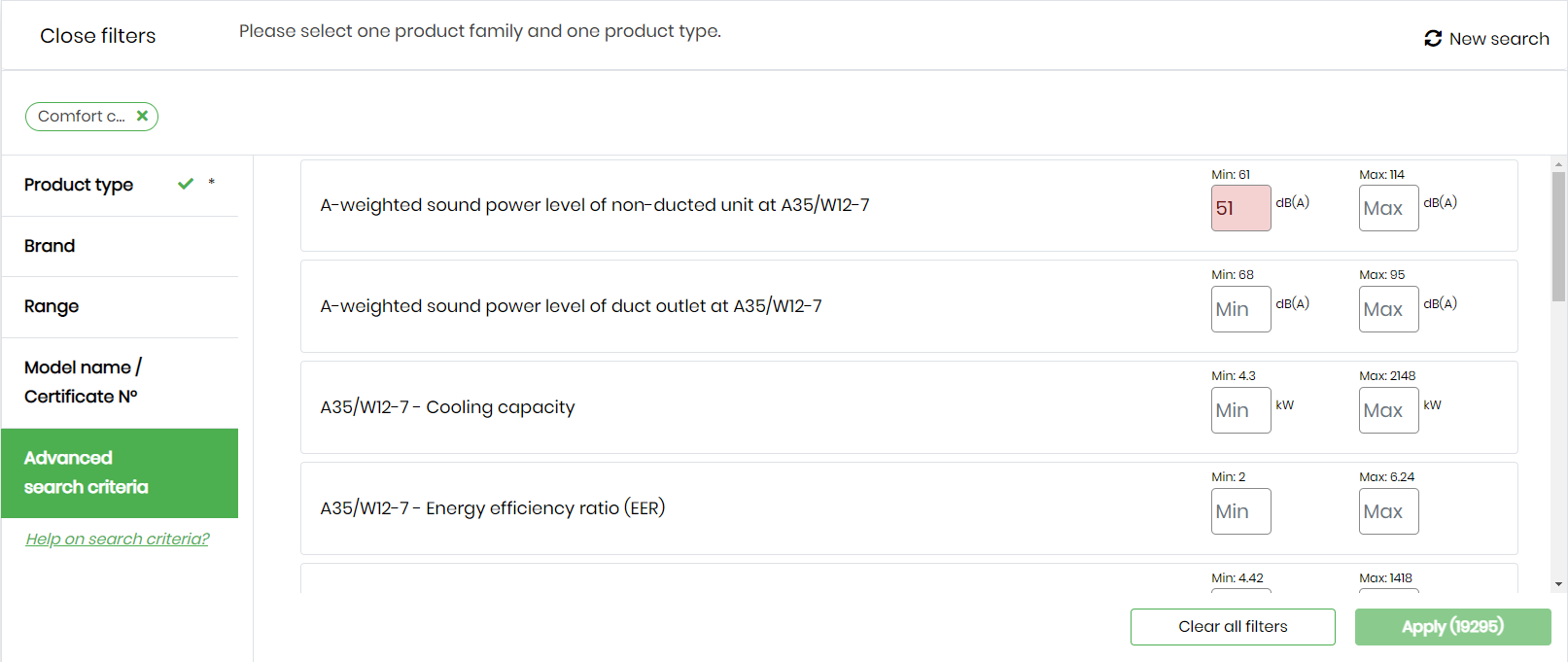 Information icon
Need a bit of help deciphering a search result? We've added additional performance information via a popup, accessed by clicking on the information icon.
Visit our certified product directory now to see the new features for yourself.
Product performance reports and certificates
Product performance reports and certificates are central to being able to compare certified products and prove product performance. We've been making it easier to both view and download reports and certificates in the certified product directory:
Product performance report QR codes
Each downloaded product performance report now contains a unique QR code that links to the product sheet on our website. Manufacturers can place these QR codes on products and materials to enable your customers to view performance data in an instant.
Merged product performance report and certificate
Our downloadable product performance reports now also include a copy of the product certificate too, so you have everything you need in a single document. But don't worry, you still have the option to download the Certificate only if that's all you require.
NF Radiator programme (NF047)
Different programmes sometimes have different formatting requirements. You can now download a customised product performance report and certificate format for NF047. This means all models in the NF Radiator programme that are linked by the same certificate number are now grouped together.
Visit our certified product directory now to see the new features for yourself.
More features
Certificate checker tool
A new certificate checker service has been designed to verify the validity of a certificate. The service also lets you look for specific certified products, ask for help understanding a certificate or a selection software printout, and check the validity of a selection software printout. If there's anything else certificate related you want to ask, there's the option for that too! Simply fill in the form, attach a file if necessary and we'll reply as soon as we can, (within two working days).
Try the certificate checker now.
Certification programme search
Looking for a particular programme? You can now create a second filter to search via product family on our certification programme page.
Try the certification programme search now.
Suggested articles
Have you read an article and want to know more? Our website will now suggest related articles to help you explore the topic in full.
News
Our news page is now classed by theme, so you can view related stories via certified success, certification programmes, HVAC-R sector, events and company news.
And to come…
New homepage
We're having another revamp so you'll soon see some changes to our homepage including a new main banner carousel, and updated design and content.
Updated menu system
We can't bring you all this great new content, without making some changes to our navigation system.
Chat facility
We're adding a new chat facility, powered by Messenger, so you can ask questions and speak to the team via the website.
Certification programme descriptions
Plus, we'll be deploying new certification programme descriptions for all of our certified programmes. Giving you more information on the scope of the programme, product type, performance definitions, certified characteristics, plus tips on using the advanced search function.
About us & join us
We're also revamping the about us page and will be adding a new join the team page. Helping you to find out more about what we do and the exciting job opportunities we have available.
New downloads
The ECC website is set to host some exclusive industry downloads. While you'll need to provide an email address to access the top class content, we won't share your details with anyone else.
Certification section
For our finale we're also planning big changes to our certification section to help you understand the benefits, process, and practicalities of all things certification. Brought together in one easy to navigate hub, you'll find all you need to know about Eurovent certified programmes, including the Eurovent Certified Performance (ECP), NF, QB, Keymark, CE Trade mark, MCS for Heat Pumps.
We are always happy to gain your feedback, so if there's anything you'd like to see our web experts add, or tinker with to improve usability, we'd love to hear from you. Email our marketing team to let us know.