On Monday 6th February 2023, the Cooling Technology Institute (CTI) sponsored an educational session from Eurovent Certita Certification (ECC) at the AHR Expo, Georgia World Congress Centre, USA. Held in Atlanta at the world's largest LEED – GOLD accredited convention centre, the presentation 'System Sustainability? Prove It with Certified Performance!' was delivered by ECC's Project / Audit Manager for Refrigeration, Ian Butler.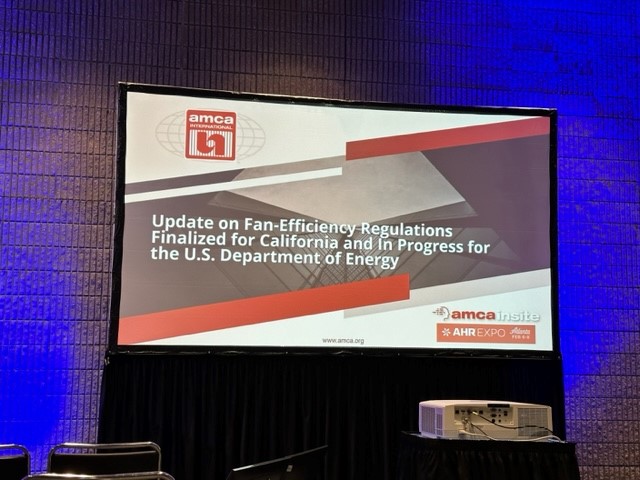 With some 180,000 people in attendance from 6th - 8th February, the AHR Expo was billed as the essential event for HVAC&R professionals, gathering together a global audience over three days of exhibitions, seminars and events. The show provided a unique forum where manufacturers and suppliers of all sizes and specialties, could come together to share ideas and showcase the future of HVAC&R technology.
System Sustainability? Prove It with Certified Performance!
Keen as ever to spread the word on the benefits of certification and choosing certified products, ECC was given the opportunity to present at this year's show, in the 3-4pm slot on the opening day. Ian took to the stage to cover the fundamental key benefits of certified performance, and the significant impact certified products have on climate change and sustainable development.
Discussing the global effort to create a net zero world, the presentation highlighted the role of HVAC&R manufacturers in developing products that provide higher efficiencies, with smaller footprints, using sustainable materials. The presentation focused in on how Independent, recognised, industry certification brands can support and enable an intelligent specifier/consumer decision, and provide confidence with trusted performance data and a rigorous certification procedure.
AHR Expo round-up
ECC's session was one in an impressive line-up of presentations and panel discussions at AHR Expo, covering a range of hot topics in the HVC&R industry. From a manufacturing perspective, Ian reports that this year's show had a big focus on the subject of renewables, especially heat pumps, and the phase out of high GWP refrigerants i.e. R410A and the introduction of A2L low GWP refrigerants. Another focus was on using Adiabatic (media pad) systems on air-cooled products, to reduce the impacts on peak load demands, reduce unit size and reduce water consumption.
AHR Expo covered a number of key issues, both celebrating the industry and giving warnings of challenging times ahead. A presentation by AMCA (Air Movement & Control Association) explained that manufacturers will find themselves subject to new energy efficiency calculations when the Title 20 Fan-efficiency regulation for California comes into force on 16th November, 2023. It is expected that the energy efficiency calculations will be classified based on 'Wire to Air', which could also have an impact on products within the energy efficiency standard ASHRAE 90.1 – Energy Standard for Buildings.
Also of note was the 'HVACR State of the Industry Leadership Panel Discussion – Todays Market, Challenges Opportunities and what's ahead'. Moderated by Bryan Orr, the panel featured Chuck White, the VP of Regulatory affairs at PHCC-NA; Talbot Gee, the CEO at HARDI; Stephen Yurek, President & CEO at AHRI; Dominick Guarino, CEO at National Comfort Institute and Farooq Mehboob, President at ASHRAE.
The panel discussed a number of important issues, including:
The importance of reclaiming the high GWP refrigerants that are being phased out, due to a shortage of refrigerants in the service side of the industry.
Industry needs to educate when it is right to maintain existing installed equipment, and when to replace with higher efficiency products using A2L refrigerants. Communication between the industry and equipment owners will be key in explaining the reality of the refrigerant shortage and why it may make more sense to update their equipment.
Most HVAC&R installations are 90% retrofitting existing buildings and 10% new build. Therefore, it's important consultants and installers specify and install energy efficient systems to work within these existing buildings.
There is a skills shortage and industry needs new talent. The panel put forward that more women and young people need to be attracted into the sector, especially with the emergence of technology such as AI (artificial intelligence), which will see industry roles branch out into IT and software programming, as well as the more traditional HVAC engineering roles.
Decarbonisation was a very big topic for discussion, as this not only impacts the energy efficiency of the unit, but also includes the complete carbon CO2 footprint of the product. For manufacturers this has big implications as the total carbon footprint of a product will include aspects such as the manufacturing process, the distance and method of shipment.
AHR Expo tackled those tough topics, while also celebrating all things HVAC&R. The exhibition saw a huge variety of products and services showcased, from all over the world, including companies such as LG from South Korea, Haier from China, Samsung from Japan, and all the big USA manufacturers: Trane, Carrier, Johnson Controls, Baltmore AirCoil, EVAPCO & SPX (Marley), to name a few. Find out more about AHR Expo at www.ahrexpo.com