Organised by the Alliance for an Energy Efficient Economy (AEEE), the Forum on Energy Efficiency & Decarbonisation (FEED 2023), took place from 2nd-3rd February at the Ashok, New Delhi, India. With the aim of transitioning towards a carbon neutral India using energy efficiency as a first fuel of choice, the event saw Eurovent Certita Certification (ECC) return as a silver sponsor, with representation on various speakers panels from ECC, Eurovent India and Eurovent Middle East.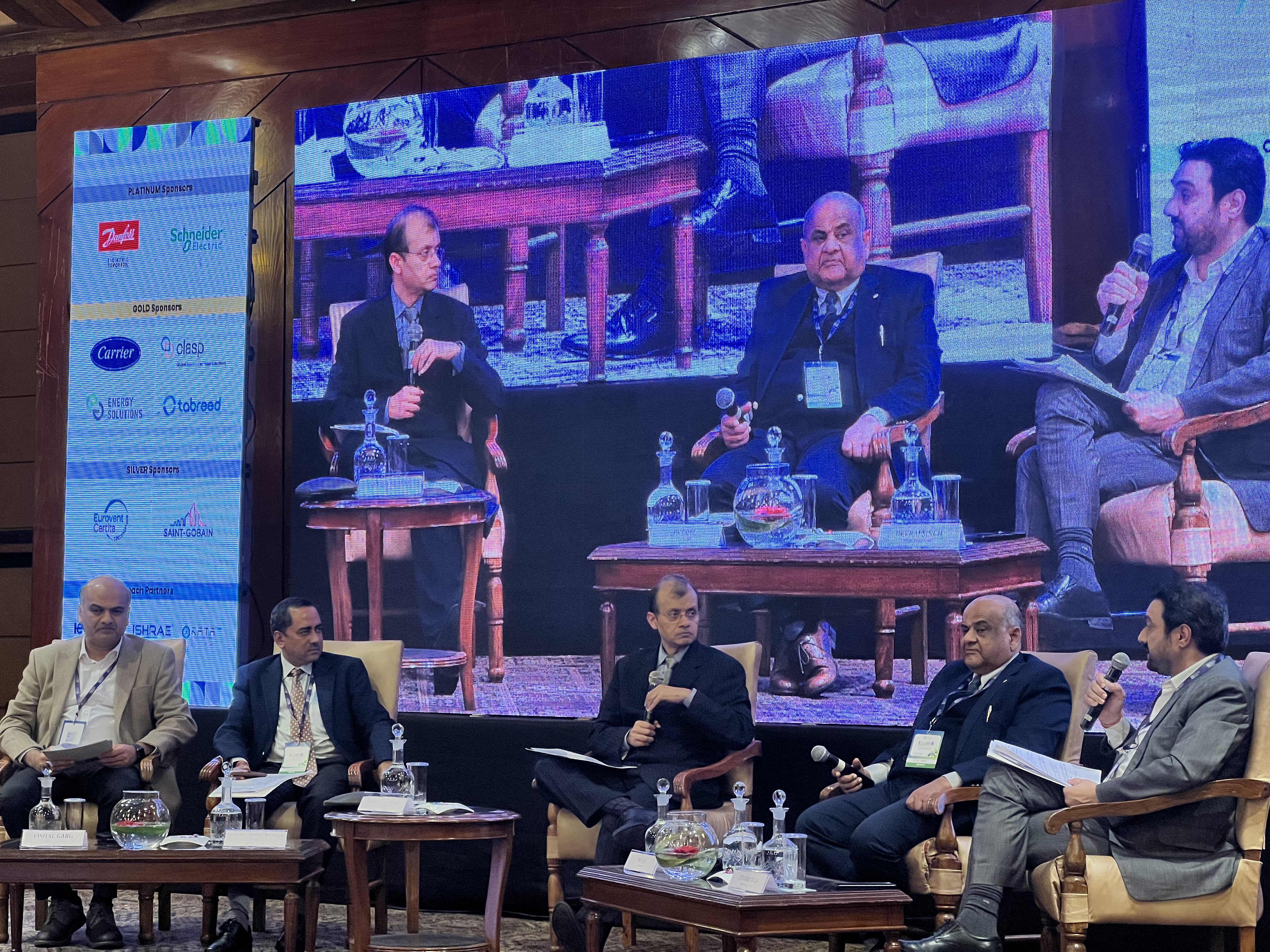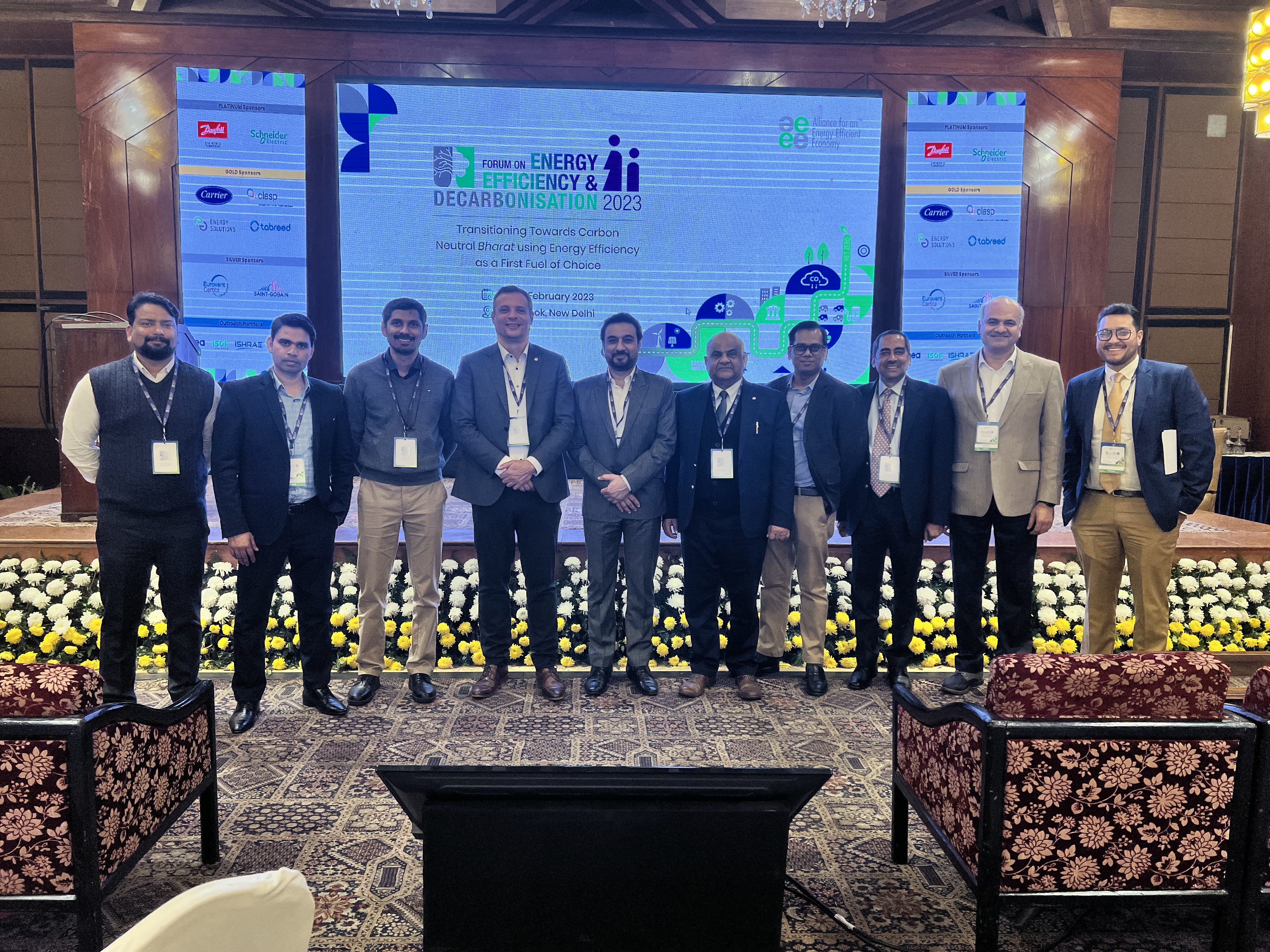 Bringing together stakeholders from the energy efficiency ecosystem - from energy service providers to original equipment manufacturers (OEM), financial institutions to policy makers, decision makers to end users - the aim of FEED 2023 was to drive the sustainability message home, to facilitate interactions among stakeholders, to enhance business competitiveness through energy efficiency.
Eurovent Certita Certification's Industry and Technical Advisor, Prabhat Goel and Devraj Singh, Chairman of Working Group-Eurovent India, and also Managing Director Flakt Group India, were on the discussion panel for 'Scaling up financing for energy-efficient products using independent measurement and verification powered by Eurovent'. Markus Latter, International Director of Eurovent joined the discussion panel on 'Decarbonizing India's cooling sector through adoption of district cooling and other cooling technologies powered by TABREED India'.
The scaling up financing for energy efficient products session, showcased the impact of airside energy efficiency in buildings. ECC's Prabhat Goel praised his fellow panellist for their contributions, with Dr Jyotirmay Mathur highlighting the importance of certification of equipment, people and buildings to achieve the goal of net zero buildings. Panellist Dr Vishal Garg discussed the importance of data collection and analysis of a buildings energy data, to ensure that the industry is delivering on energy savings and is on track to achieve net zero. Devraj Singh expressed the importance that certification offers in making sure that 'Made in India' products are treated on par with global products in neighbouring markets and Europe. The importance for setting up third-party labs for reducing the cost of certification and making it available to MSME's in India was also covered. Dr Satish Kumar chaired the session, saying it's up to all of us to ensure that we 'Walk the path' on the road to net zero.
Markus Latter joined the discussion panel on decarbonizing India's cooling sector. The session was held as an oxford union type debate, with people for and against the motion. Markus shared views against the motion, stating that district cooling systems must be designed very carefully, and that it should not result in incentivising overuse or oversizing of systems. Markus suggested that using the example of Middle East district cooling could be viable for new and planned cities, where residential usage is coupled with commercial buildings.
Eurovent Certita Certification was honoured to be a sponsor for FEED 2023. The annual flagship event builds dialogue for deploying clean technologies and sustainable solutions, strengthening collaboration and accelerating development, ensuring clean and sustainable solutions are affordable and accessible for all. For more information on the event visit: www.feedconference.in